There are moments when one needs to disconnect, take a break and seek a quick escape.
We are all under pressure. That's inevitable in today's world. Ultra-connected, bombarded with information and barely finding the time to reconnect with ourselves anymore. There comes a moment when we simply have to say stop, disconnect from it all and focus on personal quality "me" time, even if for a day. For me, the best way to decompress from stress is driving. Today just happens to be the perfect sunny winter day ideal for a mountain drive. My destination is chosen, however, there are still two very necessary and important choices to make for my day trip; first, the watch, and second, what car?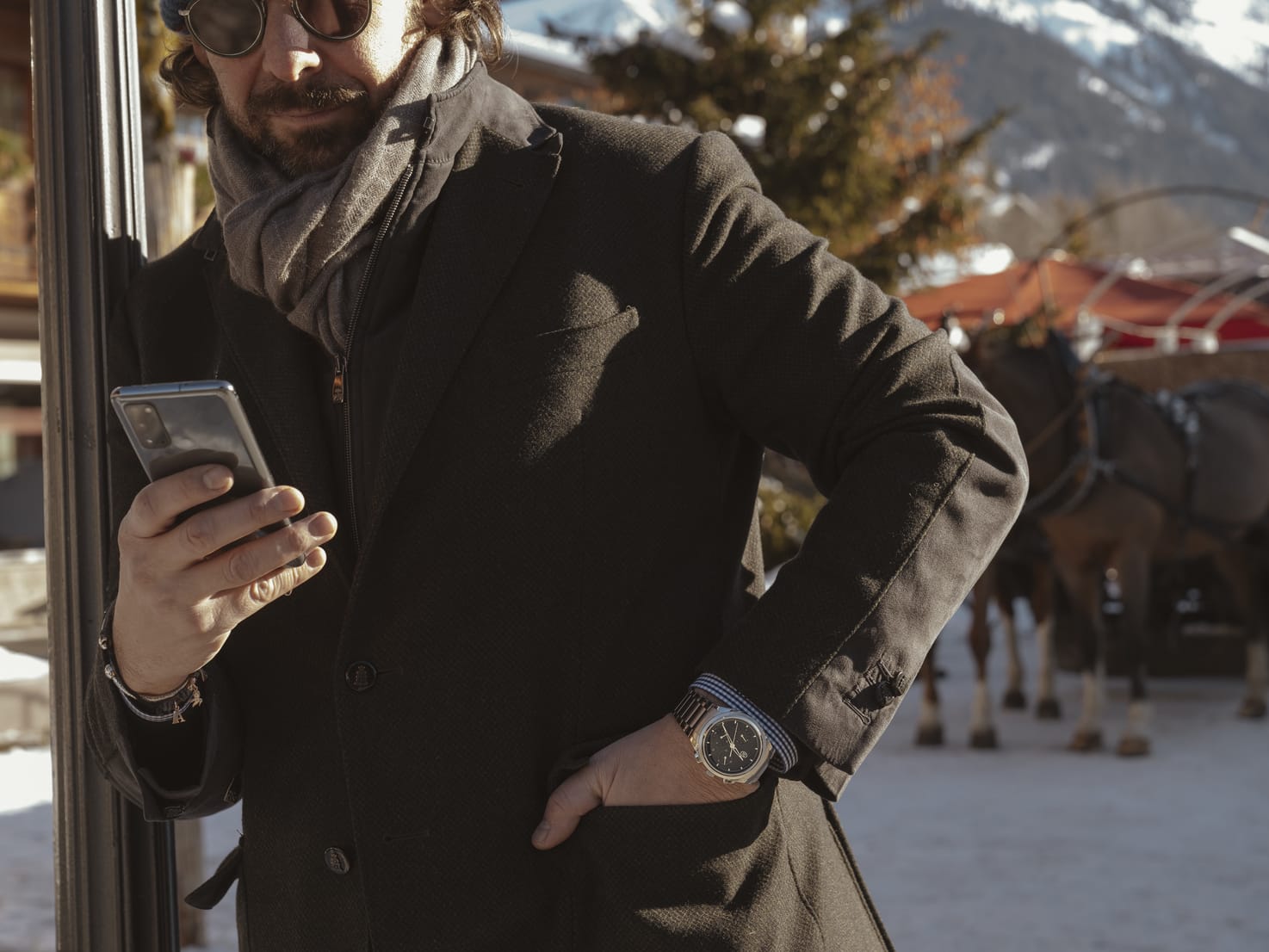 Sport Chic is the total look of the day.
When Guido Terreni called and said:" Alex, come up to Fleurier, I have something to show you", I knew that something exciting was in the making. My first reaction to seeing the Tonda PF collection was immediate. It maintains Parmigiani's distinct DNA and its exceptionally high craftmanship, while totally elevating it to a new and contemporary refined aesthetic. "Ok Guido, let me have the steel Tonda PF Chronograph for a test drive" I asked with absolutely no shame!
So here I am, ready to hit the road, the Tonda PF Chronograph set on my wrist, completing my sport-chic look necessary to climb up to the socialite meeting point that is Bernese Oberland; also better known to most as Gstaad. 
While on the wheel, I can't stop looking at my wrist, always trying to spot the best angle, the most appropriate light to see the intricate and finite details, and I think to myself: "That would be a great shot". The "Milano Blue" Grain d'Orge guillauché dial is just fantastically detailed. It is complex but minimalist at the same time. The perfect combination. The new PF logo brings purity to the dial amplifying the readability of the three subdial counters. The overall feeling of "less is more" is captivating, contemporary and effortless, all while maintaining readability.
The work achieved on the integrated bracelet is also remarkable. I am sure the Parmigiani design team was put to the test to realize a completely flexible bracelet to make the watch ultra-comfortable to wear. This feeling of a watch that feels like a "second skin" is something valued by many clients.
I also have to talk about the mechanics, right? Well, the Tonda PF's in-house manufactured column-wheel chronograph movement is simply beautiful with its new rose-gold, open-worked oscillating weight rotating over a very sleek and modern looking bridge. Simply stunning.
It's apparent when looking closely at the dial and movement that one realizes just how much know-how and craftmanship occurred to achieve such finesse in the overall design and production.
To absolutely no surprise, Parmigiani is delivering an elevated level of finishing that only a handful of Manufactures today can achieve. And yes, let's say it out loud: it's not another "sports watch with integrated bracelet and blue dial" that you will bump into again and again at the lobby of the Palace and elsewhere. Don't get me wrong, and for the sake of watchmaking, I do love those too! But do I still appreciate wearing them as much as I did in the past? Honestly, not really.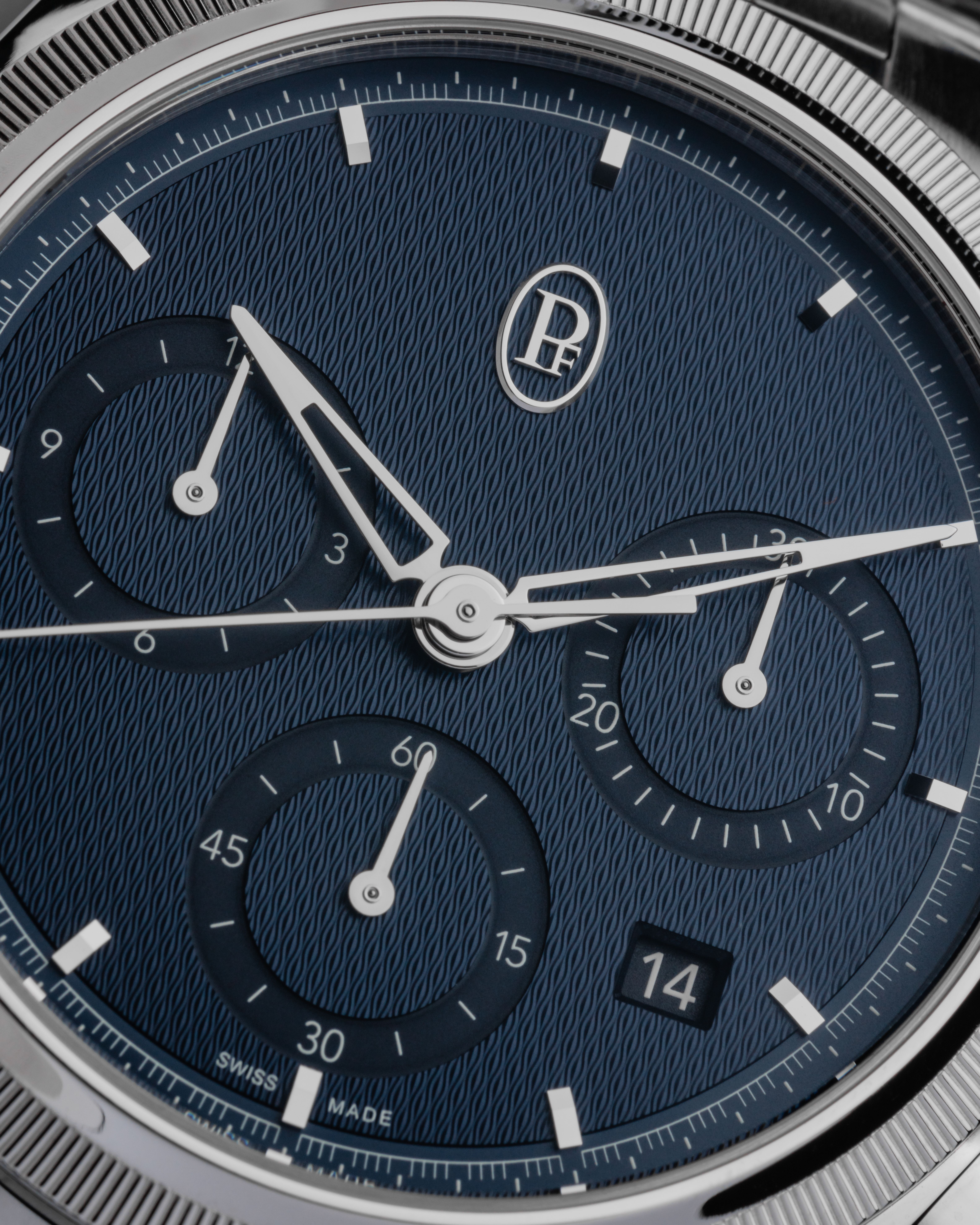 On the road with the Integrale.
For those of you that aren't familiar with the Lancia HF Delta Integrale, allow me to share some facts; The so-called "Integrale" is an absolutely outstanding machine. One of those few cars that left a permanent mark on the history of automobiles and whomever had the pleasure of driving one in their lifetime.
Born to compete in World Rally Championships, ​​the Delta was one of the most successful rally cars of all time and, for homologation purposes, it made it to the road with a very coveted street legal version that evolved over years. If you were born in the 70's and got your driver license in the early 90's, this was the car you wished for! I most certainly did and well, sometimes wishes do come true.
I am driving the Edizione Finale, easily recognizable by its dark red paint and blue and yellow stripe from the hood to the roof spoiler. Only 250 numbered cars were sent to Japan with specific racy specs, which makes these machines even more desirable and collectible today.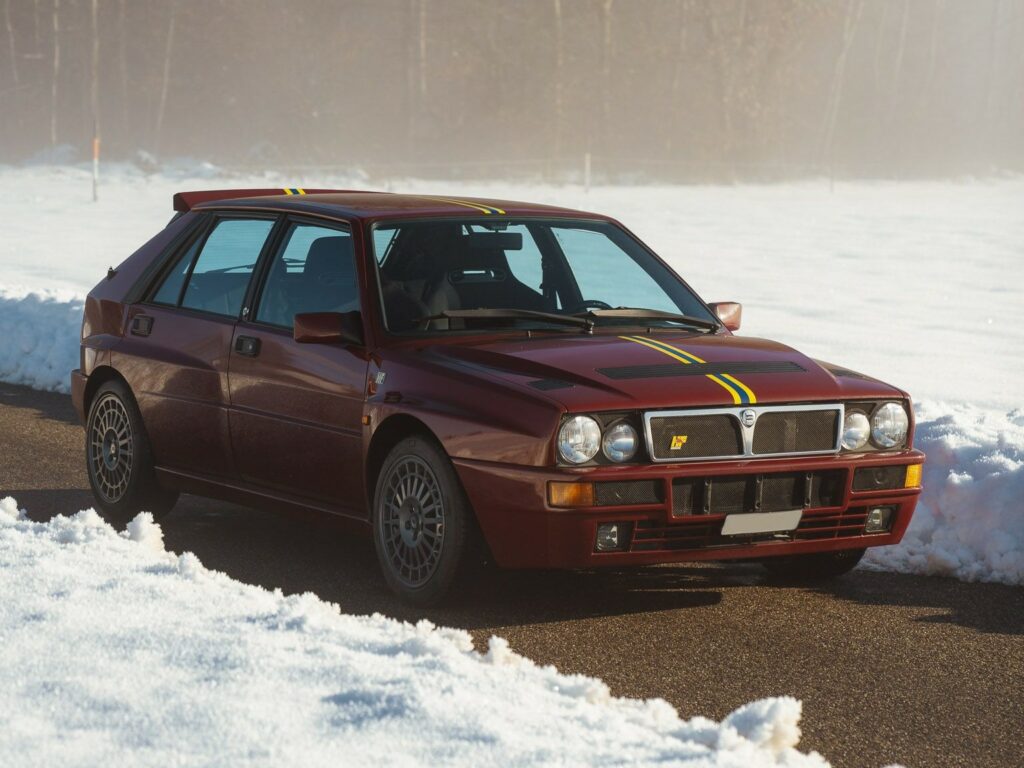 The interior is spartan. Efficiency is privileged over luxury. All your senses are awoken and aroused at the immediate start of the engine. As soon as you release the clutch, you push the gas pedal and the turbo kicks in, you immediately know something unique is about to happen and your heart starts racing in a good way. You feel everything immediately. There is a connection between the machine, the road and the driver. The grip of the car is just insane with the 4×4 transmission, "integrale" in Italian. Turn after turn, and with every winding curve, the sound of the turbo makes the drive irresistible. It's fast. So damn fast. Let's slow down though to appreciate the road and the scenery. Gstaad here I come.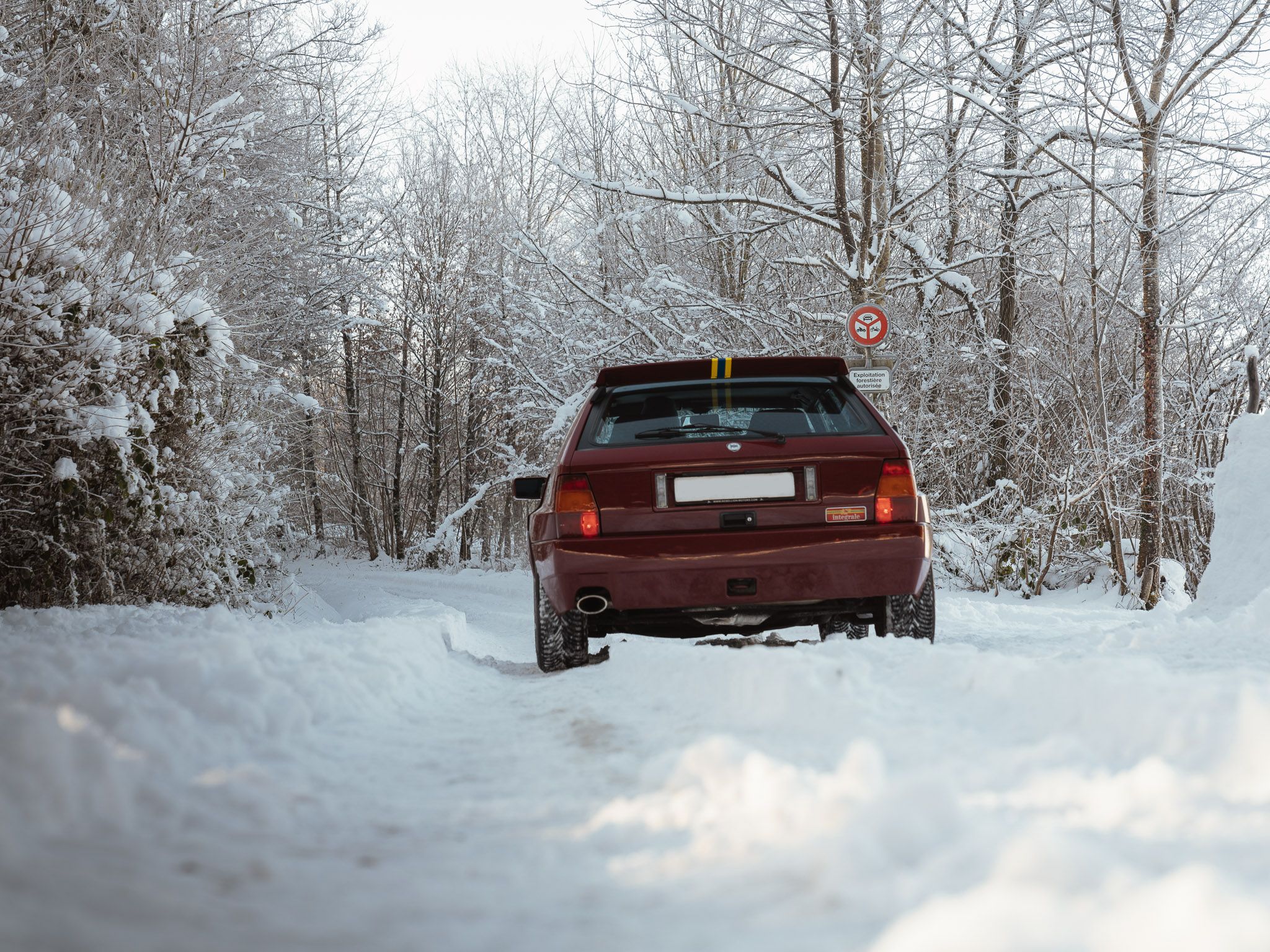 Gstaad, what about Gstaad?
Some are already in St. Moritz, some opt for Zermatt and others prefer Verbier. But for a quick escape with no skiing on my agenda, Gstaad is definitely my number one choice as it's close to Lausanne, my hometown.
Gstaad has always been a magnet for global jet-setters and royalty. Nevertheless, discretion is mandatory here and the nonchalance of it makes it inviting and familial too. Don't get me wrong, the wealth is obvious but also understated making the ease of it quite pleasant. This is what makes Gstaad so unique.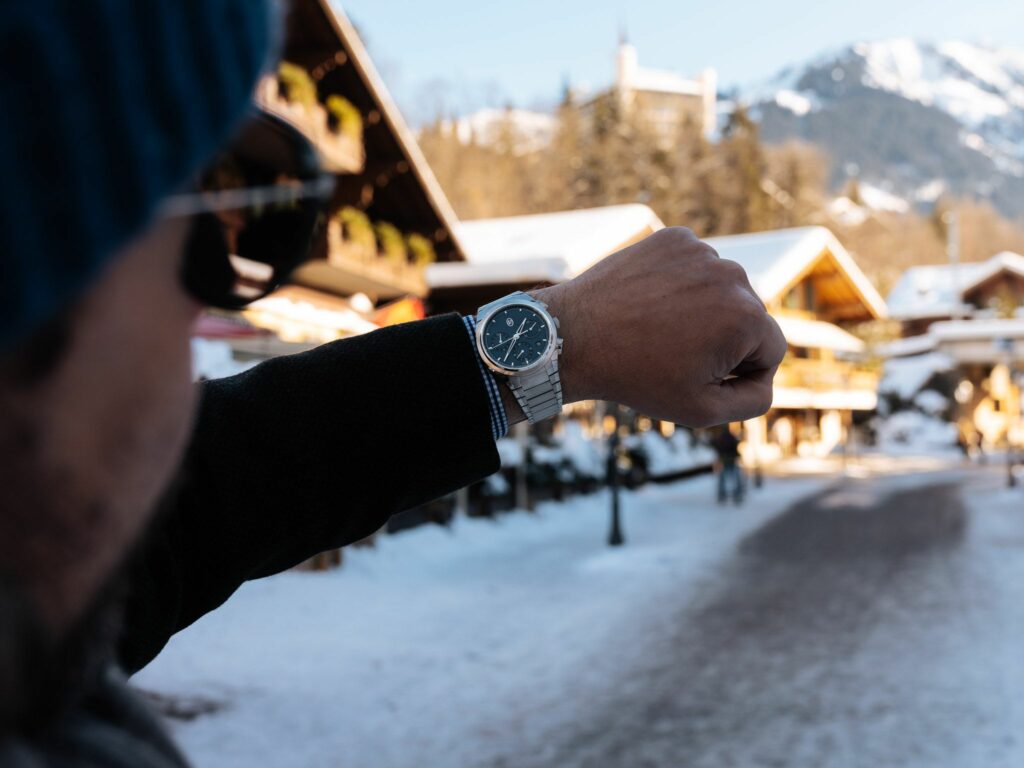 There is a proper program to follow when you are not on the slopes: people watching for one, shopping, socializing, eating and of course, the aperitivo! Gstaad does not offer many choices but there are a handful of musts. For lunch you can't miss the fashion crowd at Olden (recommended by the Milanese), followed by a leisurely stroll on the Gstaad promenade and a cocktail on the sunny terrace of the "James Bond look" Hotel Alpina are all to be checked off the list before departing!
What I love most about Parmigiani is the understated refinement, the constant attention to detail and the almost maniacal level of finishing. What's astonishing is that the brand is celebrating its 25th anniversary and it will undoubtedly evolve quickly under the leadership of Guido Terreni and the team. With the new Tonda PF Chronograph, you own something rare; a timepiece for purists and not a social status object. And that's paramount for me.
The Delta became an icon. A highly desirable automobile coveted by many that desired to own something different, that wanted to express their taste of mechanics and performance in a more sophisticated way.
What I thought most about on the drive back to Lausanne was the synergy that exits between these 3 refined choices for my day escape; the nonchalant elegance of Gstaad paralleled with Parmigiani's understated Haute Horlogerie refinement, and the culmination of emotions and adrenaline felt while driving this mythical car.
The pairing of both Parmigiani and Lancia matched my quest for the beautiful and rare. Hope you enjoyed coming along for the ride, and don't forget:
Time is Flying pretty fast, and if you don't stop and look around once in a while, you could miss it…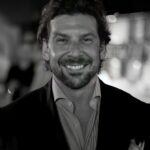 Watch collector & Luxury consultant