Special contribution from Wei Koh, Founder of Revolution & The Rake
As a freshly divorced middle-aged man who started dating again six months ago, I have an analogy for you. Basically, getting to know a watch is a lot like becoming familiar with the presence of another human being in your life. The reality is, no matter what has been ingrained in you by the incurable romanticism of Gabriel Garcia Márquez, you have no idea whether you and that other person will synchronize with each another's rhythms or fail spectacularly at doing so.
That first flush of attraction, that heady opiatic sensation of gravity slipping away and your stomach plummeting down a rollercoaster can give way to ennui or irritation pretty damn fast. What you thought was a charmingly idiosyncratic interest in veganism can rapidly become the source of your volcanic ire when confronted with the umpteenth diatribe about how the dairy in your cortado is akin to murder. Especially when said through the smug superiority of an oat milk mustache. So much so that in your mind, you respond, "Why don't you blow a bag of quinoa up your ass, you hippie dick," even as you say, "I acknowledge and respect your opinion."
Same thing goes for watches. I remember timepieces that I longed for in my youth; watches that were the object of my nocturnal fantasies. Then when I got them, the luster rapidly faded. One timepiece featured a deployant clearly designed by one of the chief torturers of the Spanish Inquisition, so agonizingly did its ears repeatedly dig into my flesh. Another possessed a crown that would repeatedly attempt to create a depression into the back of my hand the size and depth of the Mariana Trench. A third boasted a chronograph, the result of a modular construction, which had a running seconds hand that would leap forward by 10-second increments each time this timing function was activated. There was also the watch from the cult independent watchmaker that broke down three times in the first six weeks of owning, though considering the secondary market value for these timepieces, I should have kept it in non-running condition in my drawer. And finally, there was the diving watch that had all the balance of a rock attached to rubber band, thanks to its disproportionately anemic bracelet.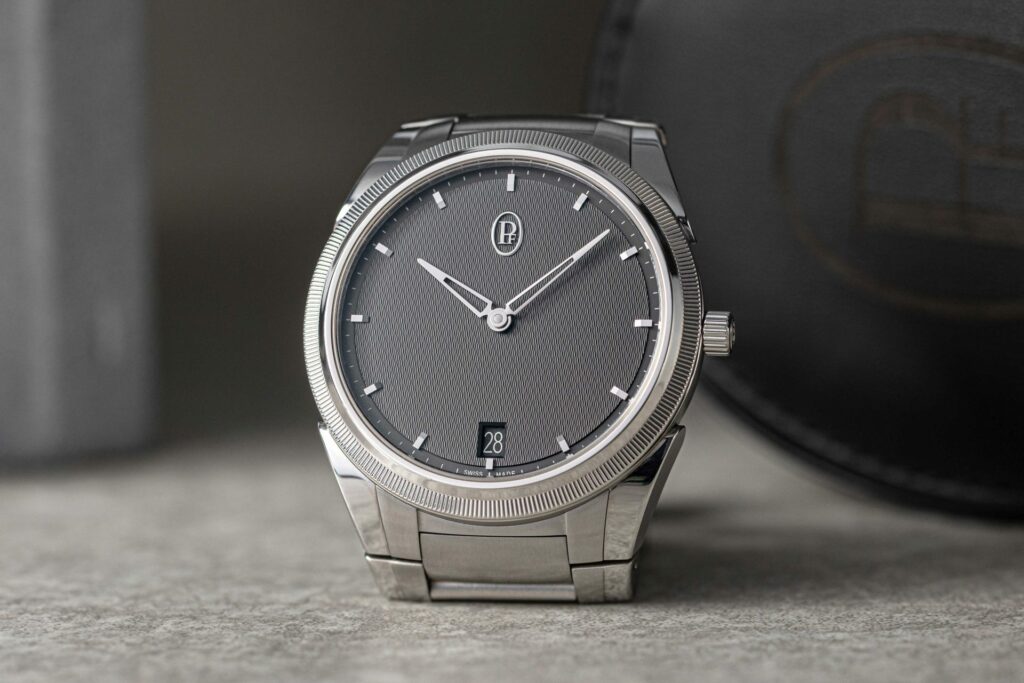 The 2021 Parmigiani Fleurier Tonda PF Micro-Rotor in a 40mm steel case (©Revolution)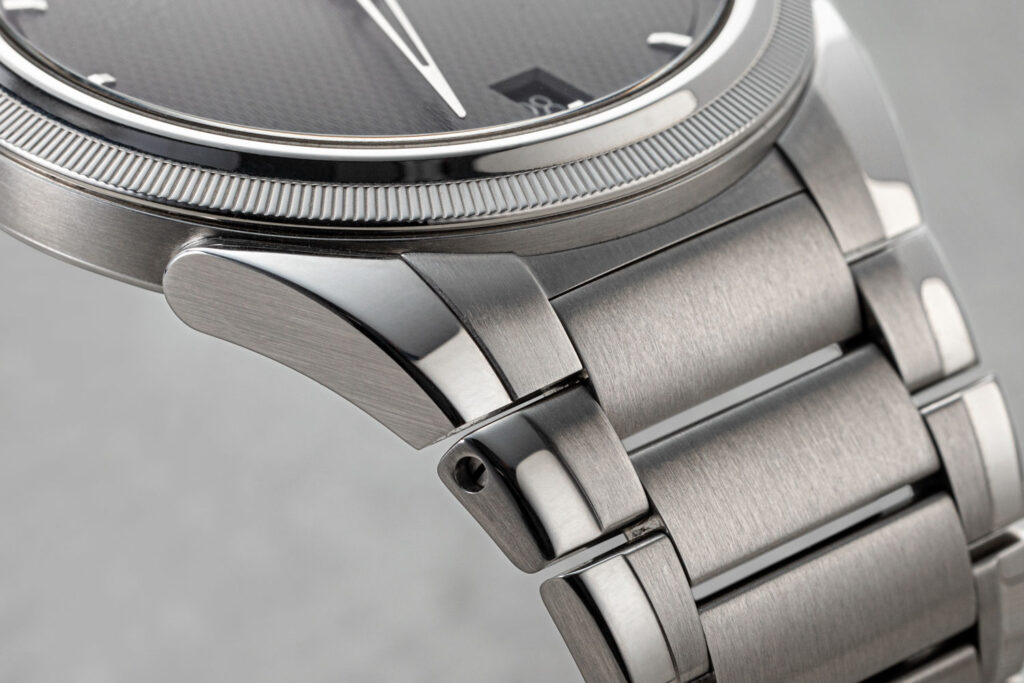 The junction where the arousingly feral flared lugs meet the case of the Parmigiani Fleurier Tonda PF Micro-Rotor (©Revolution)
As a result, I've learned to moderate my enthusiasm with some degree of circumspection and to really look at a watch from every dimension — its aesthetic, its movement and, in particular, its ergonomics — before taking the plunge into purchasing it. Now let's hark back to late August and early September last year during Geneva Watch Days, the first physical watch fair I attended since the onset of the COVID pandemic. My unbridled joy at being able to physically see, touch and feel watches, and once again meet all the personalities from the watch industry I had so much affection for, was rewarded with some truly epic horological creations. I recall randomly wandering into Bernhard Lederer's room just off the lobby of the Hotel Beau Rivage, turning his Single Impulse Chronometer over with the synapses in my brain exploding. It was one of the most technically brilliant and ravishingly beautiful movements I had ever set eyes. My voice was tremulous as I asked, "Is that two independent trains with two balance wheels and two remontoirs feeding energy to an independent double wheel escapement?" Lederer's wife and partner, Ewa, replied with a chuckle, "Yes."
I vividly remember receiving my personal M.A.D. 1 from none other than the watch's creator, the legendary Max Büsser. At this time, he also showed me the pièce unique M.A.D. 1 he had created for my charity auction benefitting breast cancer, The Pink Dial Project. Little did I know at the time that this amazing watch would go on to fetch a staggering USD 172,000, helping us to raise a total of over half a million dollars for the cause. But it was in a suite upstairs that I truly had the wind knocked out of me. When I set eyes on the Parmigiani Fleurier Tonda PF Micro Rotor in steel, I felt the world stop, such was its beauty.
Design & Conquer
OK, I've explained in a previous article, which you can read here, that as much as I admired Parmigiani Fleurier for its technical credibility — one can only revel in awe at a company that trained Denis Flageollet, Kari Voutilainen and Stepan Sarpaneva — its watches had always left me emotionally somewhat cold. That was until my friend Guido Terreni, one of the key figures behind Bvlgari's Octo Finissimo, took over as CEO and designed a watch so spectacularly stunning that I was instantly smitten. In my mind, I heard the opening guitar and drum refrain of The Distillers' "Beat Your Heart Out" and Brody Dalle snarl, "Baby, you make my heart beat faster."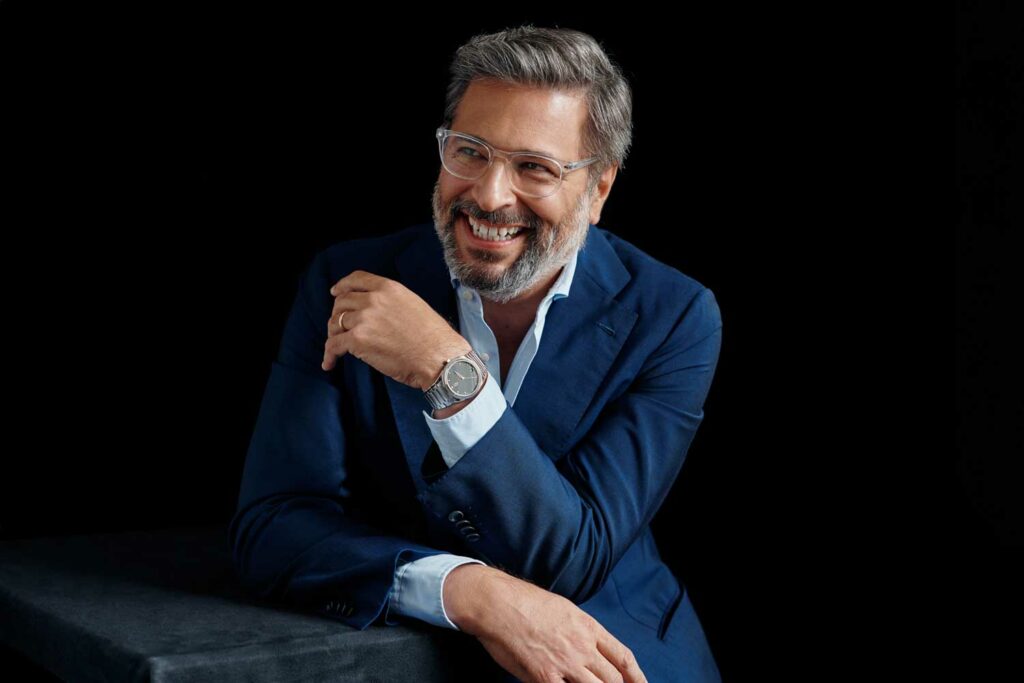 Guido Terreni, took on the role as CEO at Parmigiani earlier in 2021
Every brand in modern horology is aware that the integrated bracelet, sports chic sector has become the single most dominant category for luxury watches, compelled there by the incendiary rise in popularity of Audemars Piguet's Royal Oak and Patek Phillipe's Nautilus. As such, pretty much everyone has responded by either reviving and updating their integrated bracelet design (Vacheron Constantin with its Oversea and Chopard with its Alpine Eagle) or just gone ahead and created an all-new watch (Moser with its Streamliner; Laurent Ferrier with its Grand Sport). Terreni's PF falls in the latter category and, as such, has allowed him to take an existing model, the Tonda, and radically reconceptualize it from the ground up. What he's achieved is, to me, nothing less than remarkable, for three reasons.
First are the proportions of the watch. At 7.8mm in thickness and 40mm in diameter, the watch is perfect. There is the beautiful dynamic tension that you get between the exquisite lithe slimness of the watch and its relatively bold presence on the wrist. Says Terreni, "Pure thinness wasn't the objective here; rather, I was striving to create the perfect balance in proportions that creates something very elegant yet striking. Interestingly, though I initially conceptualized the watch for men, each time I see it on a woman, I think that it looks absolutely perfect. It's nice to see a universality in the beauty of the proportions."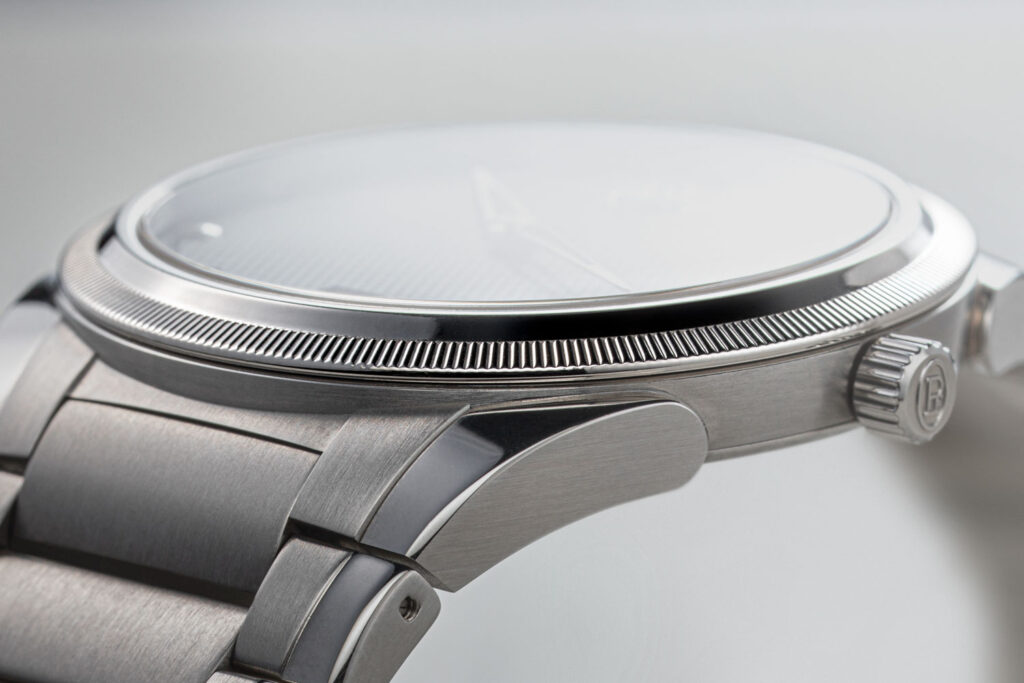 The case of the Parmigiani Fleurier Tonda PF Micro-Rotor measures 7.8mm in thickness and 40mm in diameter and features a delicate micro-fluting on the bezel rendered in platinum to give a slightly whiter reflection in light (©Revolution)
Secondly, the PF is an absolute masterwork of subtle nuanced detail, from the micro-pattern on the dial, the high polished applied markers and minimalistic PF logo, to the delicate micro-fluting on the bezel rendered in platinum to give a slightly whiter refection in light, to the high polishing on the reverse side facing the case of the arousingly feral flared lugs. All this nuance is, of course, complemented by the decoration of the magnificent PF703 micro-rotor movement, one of the very best ultra-thin automatic calibers around.
The third triumph of the PF is how it feels on the wrist, and I'll go so far as to say, in terms of pure ergonomics, this has to be the very best integrated bracelet watch in the business. There are other watches that are thinner but they tend to sit flat on the wrist. There are many watches that are significantly thicker, and the watch head tends to shift on the wrist because of the lack of micro-adjustability in the integrated bracelet design, compelling them to have to be worn slightly loose. The PF is perfectly contoured in profile, so that it nestles on the wrist and stays there as perfectly ensconced as a nude Lady Godiva astride her stallion to convince her husband to lower the taxes for the citizens of Coventry.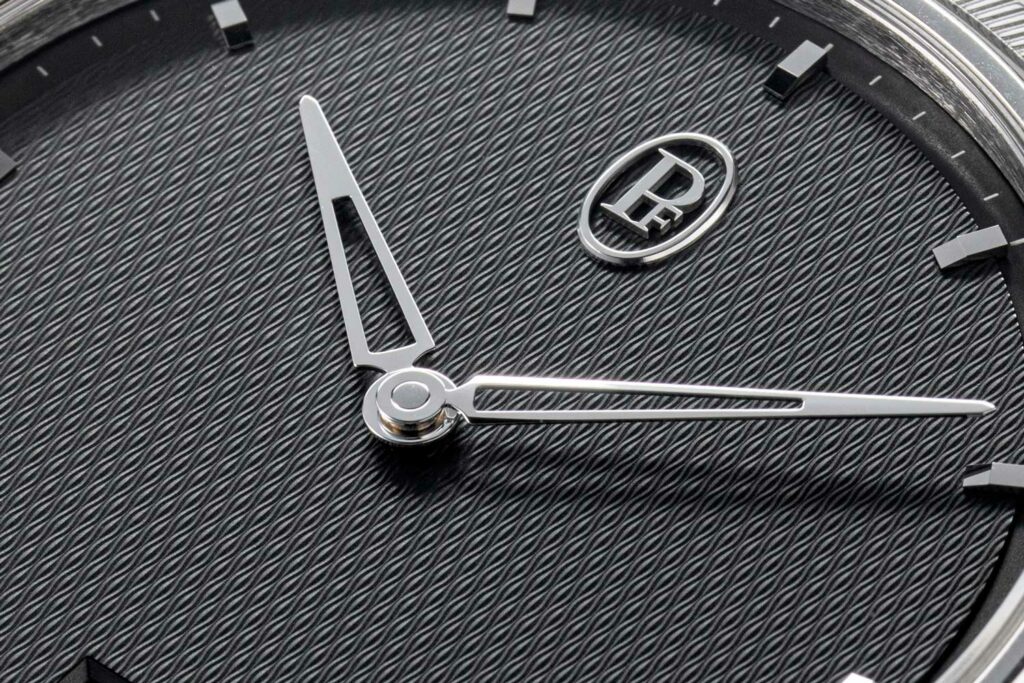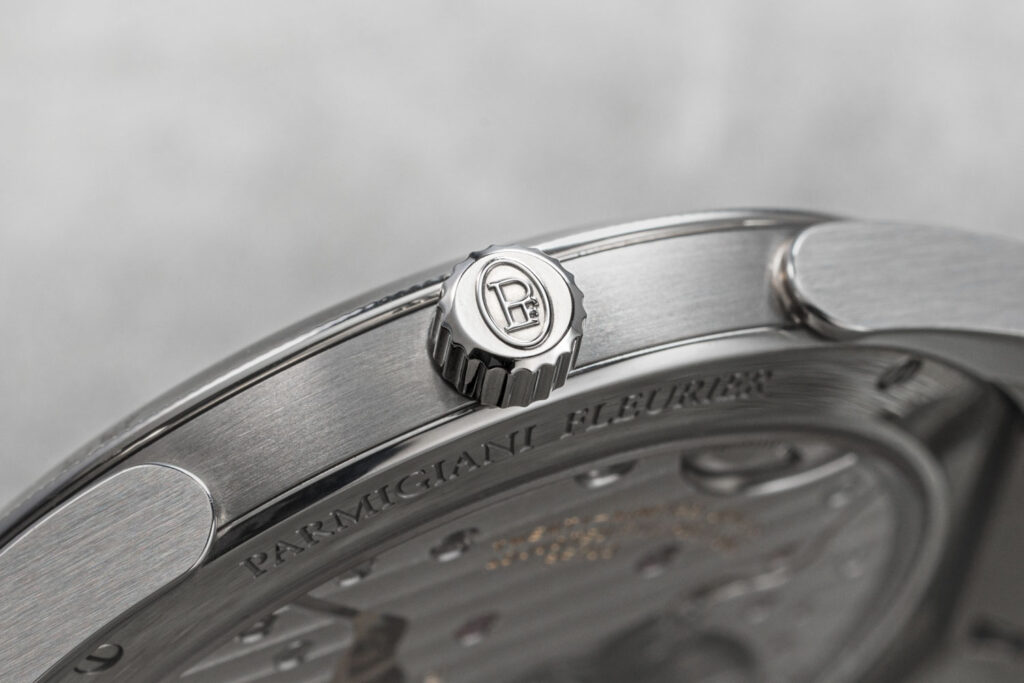 The screw-in crown of the Parmigiani Fleurier Tonda PF Micro-Rotor allows the watch to be rated to 100 meters of water resistance (©Revolution)
But, as I expressed, recognizing all the positive attributes of any watch still does not assure that ownership will be a positive experience. That can only accrue over the test of time. Following Geneva Watch Days, Terreni found himself with a massive hit on his hands and the initial production of PF watches, which also included a 42mm chronograph, annual calendar and rattrapante models, rapidly sold out. But he was kind enough to keep one example of the PF Micro Rotor for me to pick up in November last year, after the GPHG. I then proceeded to wear this watch to Paris, Berlin and London, and to Dubai for Dubai Watch Week, New York and, finally, Los Angeles.
After this five-week whirlwind peripatetic odyssey, I found myself astonished at the pure wearability of the amazing PF. It's one of those watches that is such an effortless pleasure to wear that you unconsciously reach for it every morning when you head out for your day. Or you may wake up to it on your wrist because it's so amazingly comfortable that you forgot you had it on. The combination of the slimness with the ergonomic contours of the case and lugs, together with the supple beauty of the bracelet and unobtrusiveness of the clasp, makes for a watch that is a pleasure to wear. At the same time, when you look at the PF, it fills you with the thought that you have something special on your wrist. There is the aphorism "beauty fades." But, to me, this has always applied to obvious beauty. Conversely, subtle beauty only continues to grow in appeal.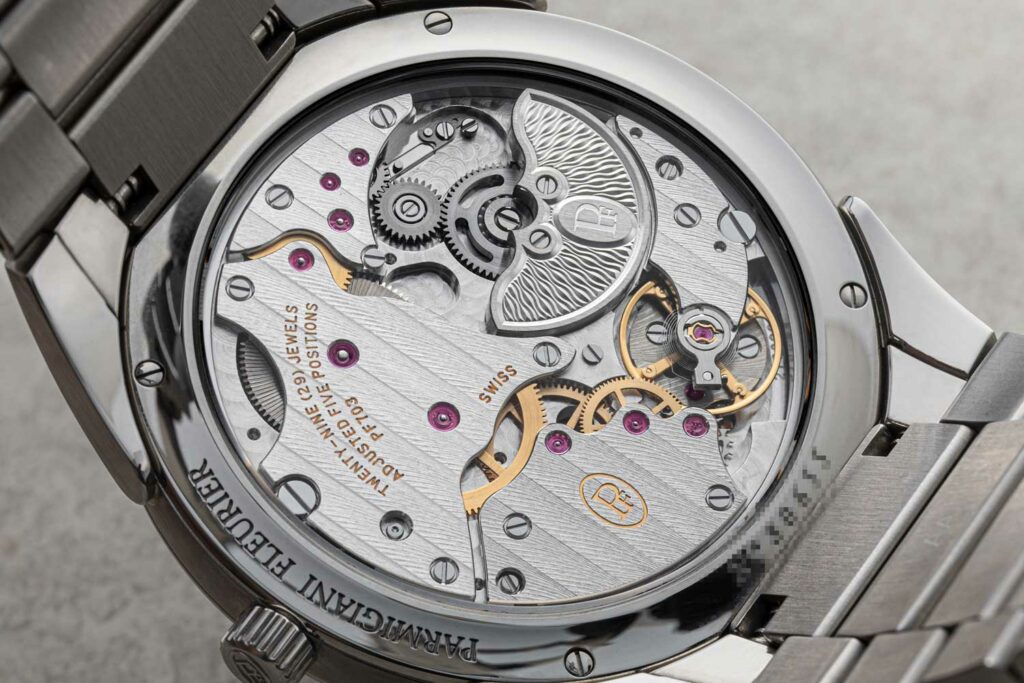 The magnificent 3.07mm PF703 micro-rotor movement, one of the very best ultra-thin automatic calibers around (©Revolution)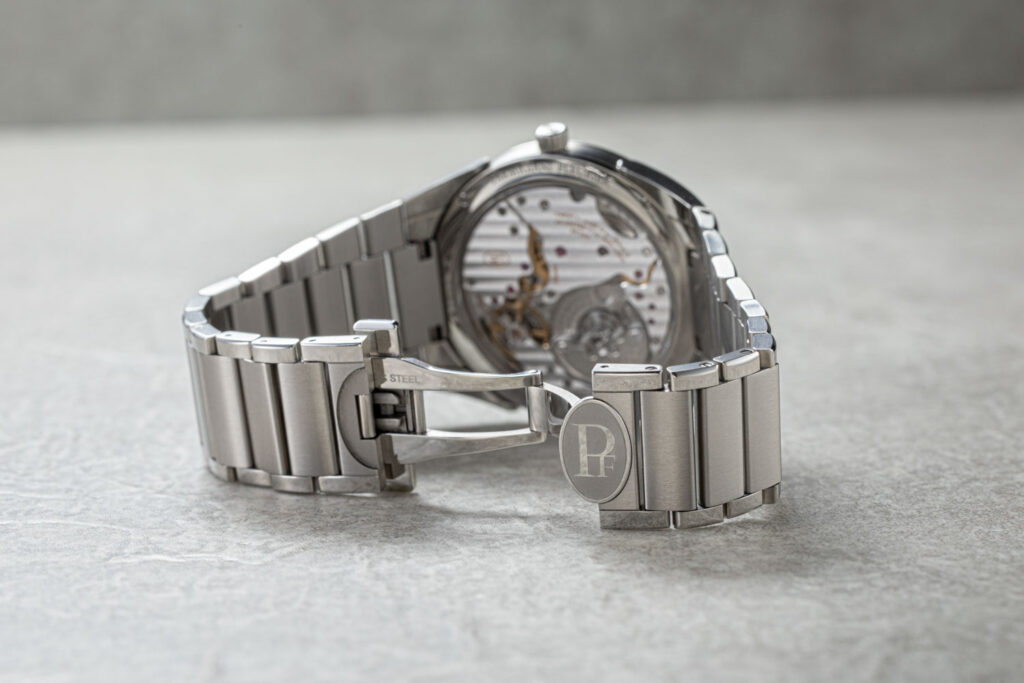 The combination of the slimness with the ergonomic contours of the case and lugs, together with the supple beauty of the bracelet and unobtrusiveness of the clasp, makes the Parmigiani Fleurier Tonda PF Micro-Rotor a watch that is a pleasure to wear (©Revolution)
Wearing the PF is a constant journey of discovery of more and more nuance. Perhaps the one criticism I initially had was that the crown was a bit small, but as I got used to the PF, I realized that, firstly, it made for a comfortable experience and secondly, that in the end it worked perfectly with the other visual details of the watch. It even had the added benefit of being a screw-in crown, allowing the watch to be rated to 100 meters of water resistance. I wore the PF everywhere — elegant dinners, watch fairs where I was running from booth to booth, dashing through airports, in spin classes and even in the pool of the Proper Hotel in Santa Monica.
But the experience that really made me value the comfort of the PF was when I spent 25 hours over four days getting a new sleeve tattooed onto my left arm. As the tattoo descended to my wrist bone (not a pleasant place to get tattooed), I had to shift my watch to my right wrist. I've always found this to be an odd experience, and any watch I wear on my master hand invariably feels cumbersome. Amazingly, the PF felt perfect even on my right wrist, and it became my constant companion to track and countdown the hours until the agony of the new tattoo subsided. Its beauty also provided ample distraction. It is, in fact, so effortless to wear that I've kept it on while writing the entirety of this article.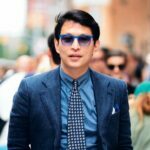 Founder of Revolution & The Rake