Fleurier, December 2nd, 2021 – As the grand finale of its 25th anniversary, Parmigiani Fleurier releases a truly peerless and quintessential timepiece. La Rose Carrée is a one-off, 64 mm, white gold, double hunter pocket watch featuring the most advanced craftsmanship and historical heritage. Inside lies an original movement made by legendary watchmaker Louis-Elisée Piguet somewhere between 1898 and 1904, at the peak of his creativity and craft. This rare object of the past showcases a grande sonnerie and minute repeater, and has been fully restored while preserving its authenticity. A Rose Carrée or "squared rose" pattern engraving spans the entirety of this legacy movement, as well as the newly designed case, which is coated in translucent grand feu enamel, creating complex shades of blue. La Rose Carrée is a testament to the genius of the watchmakers of yesteryear and to the talented artisans of today. A confluence of the past and present, it is literally a unique work of watchmaking, art, and craft.
The story of La Rose Carrée is a tale which resembles those told through the ages. One of happenstance, adoption, transformation, rebirth, and above all, beauty. In the late 1990's, Michel Parmigiani acquired a grande sonnerie and minute repeater movement, created around the end of the 19th century by famous grand complications watchmaker Louis-Elisée Piguet. For over 20 years, this calibre remained in a drawer, awaiting restoration, a new life and therefore, to be reborn. 
In 2021, Parmigiani Fleurier's newly appointed CEO Guido Terreni decided the brand's upcoming 25th anniversary deserved a special undertaking, and thus initiated a project together with the maison's founder and one of the world's most celebrated master restorers, Michel Parmigiani. The project was to be a signature timepiece that embodies the entirety of Parmigiani Fleurier's craft, Michel Parmigiani's culture, Guido Terreni's vision and the best of what the talented craftspeople surrounding them have to offer. 
In less than twelve months, La Rose Carrée came to life, a feat in and of itself. At the hands of a team led by Michel Parmigiani and Guido Terreni, powered by the will to transcend this exceptional piece of world heritage, the grande sonnerie movement was elevated to a new dimension. It was brought back to its original glory, and more, thanks to the best-in-class experience and skill at Parmigiani Fleurier's restoration workshop. Then it was encased in a highly decorated white gold case measuring 64 mm in diameter. With movement and case, form and function, in unison, La Rose Carrée is a pocket watch that is by nature and by design, entirely unique. 
Rejuvenation
Calibre Louis-Elisée Piguet number 5802 is outstanding in nature, being one of the rare movements of this style that was made by the famed watchmaker around the end of the 19th century. "We were trusted with a movement that's exceptional by its complications, by the number of components and by its quality," says Francis Rossignol, who works with Michel Parmigiani at the restoration workshop. "Our aim is to embellish it, to enhance its aspects, but our job is to always remain in the background."
"This is indeed an outstanding movement," says Christie Girel, another member of Parmigiani Fleurier's restoration workshop tasked with handling the restoration. "Louis-Elisée Piguet made very fine movements, for the best brands. Finishings, horizontal-grainings, the balance wheel, the mainplate are perfect, even under a microscope, from the smallest to the largest part."
It's also extraordinary by its functionality.  "A grande sonnerie chimes the number of hours at the top of every hour. At every quarter, it chimes the number of quarters. And as a minute repeater, it chimes the number of
hours, quarters, and minutes on demand," says Christie Girel. The acoustics of the movement, the sound it creates as it chimes is sheer pleasure to the ear. 
Transformation
While the movement is being rejuvenated, both covers of the case are engraved by the skilled hands of Eddy Jaquet with a motif called "Rose Carrée". The square roses, inspired by the linear form that rose petals take when they start to wither, are meticulously and assiduously hand-engraved. Their pattern follows the Golden Spiral, a mathematical derivative of the Golden Ratio, which is seen everywhere in nature from trees, plants, and seashells. 
Thus is the inspiration for the design of the case covers, both mirror images of delicate geometric roses floating within a ripple of water on a profound sea of blue. "The blue of La Rose Carrée expresses the colour of a body of water as one would see it from the sky – with all the nuances and subtle changes in the shades of blue according to the various depths," says Michel Parmigiani. While blue has always been an emotional colour for Michel, the blue rose for him is the epitome of rarity. Roses are often regarded as the most coveted, elegant, and prestigious of flowers. Adding blue to the equation creates a symbol of mystery and of attaining the impossible.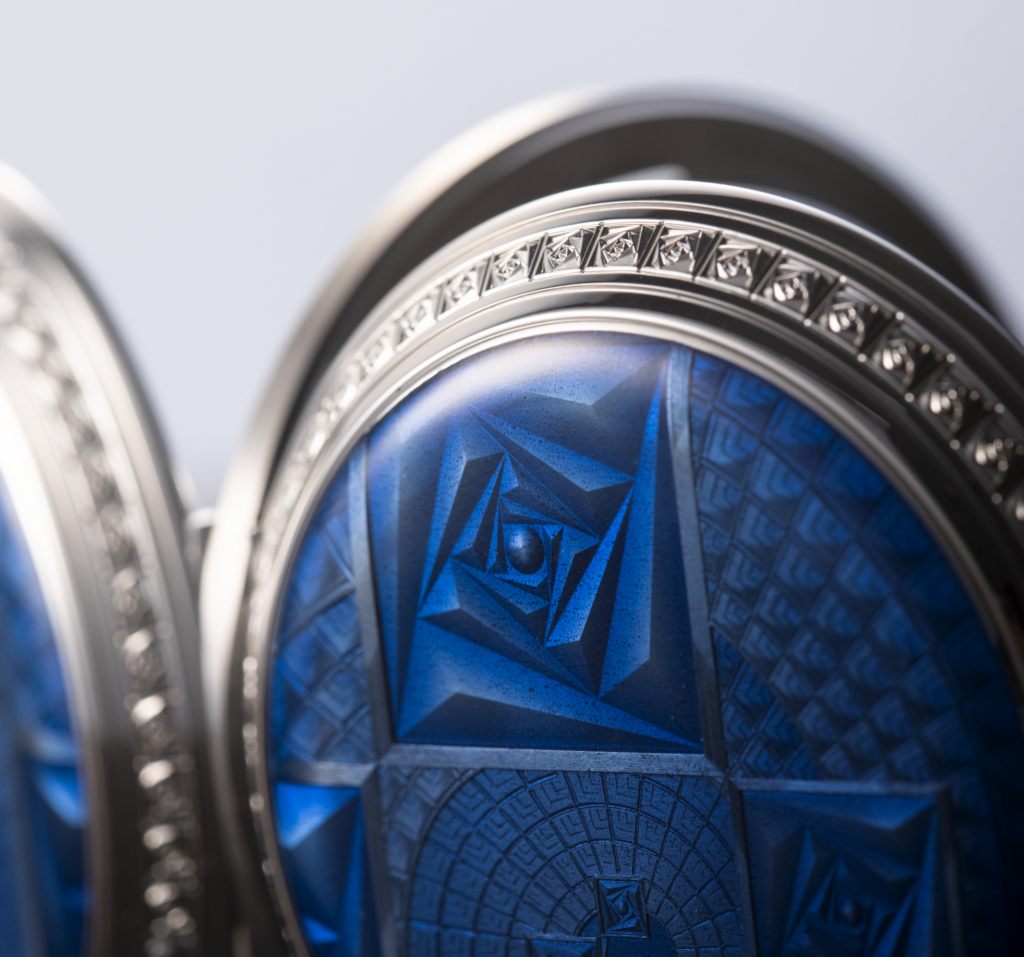 Elevation
Between three and four layers of blue grand feu enamel are meticulously applied by artistic enameller Vanessa Lecci. She added even more depth and rich colour to the magnificent engraving work, while ensuring the extensive enamelling appears the same on both covers, one more extraordinary feat. Vanessa had to venture into the unknown while working on a complex textured surface that is much larger than the average wristwatch, 60 mm vs. the usual 30. Her skills and nerves were tested at the highest level.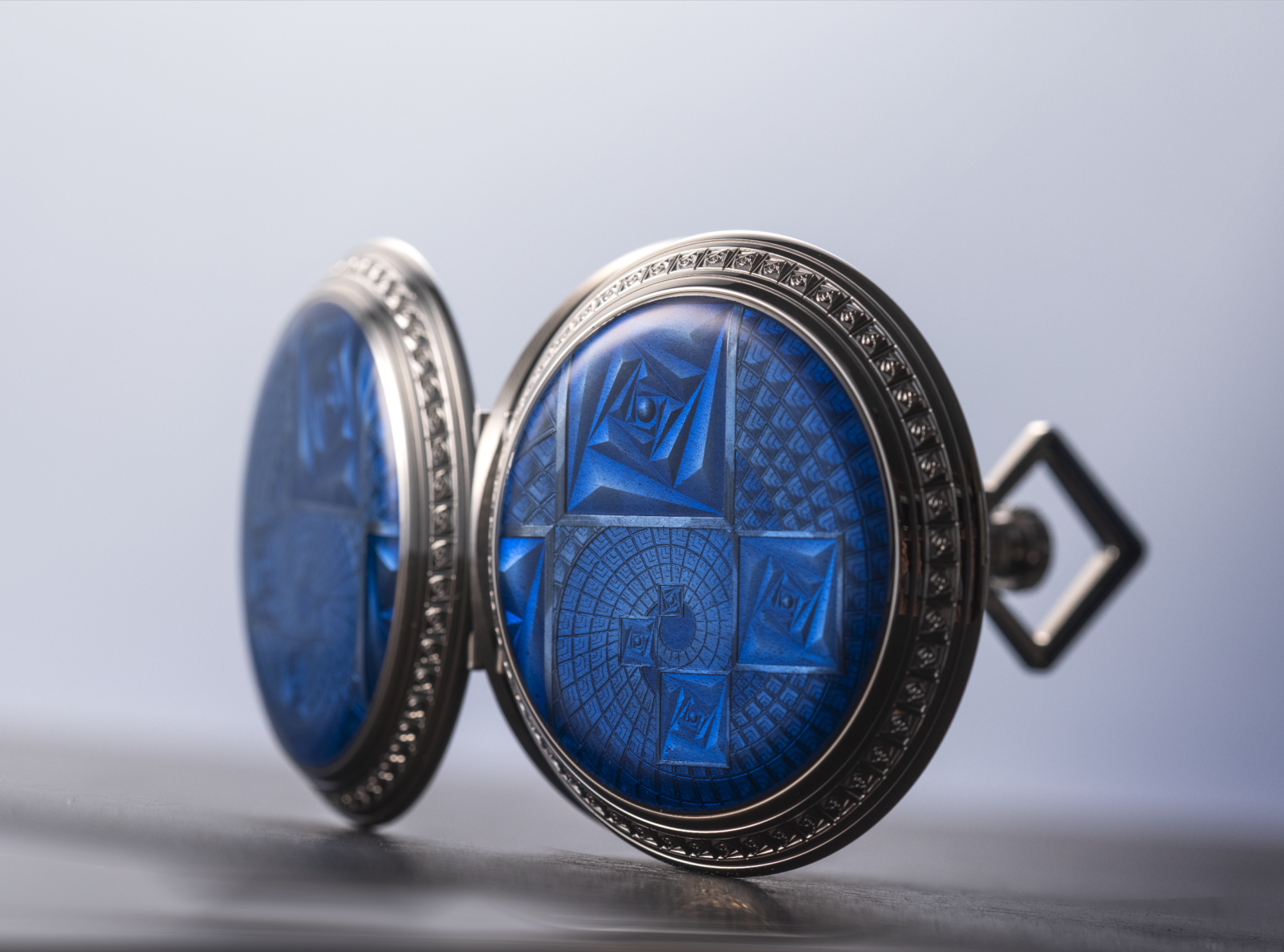 Both covers are symmetrical and contextually engraved. When the first one opens, it reveals a wide, uncluttered dial entirely made of black onyx. On this dark, mirror-like surface that was a great challenge to cut, lies a pair of open-worked, white gold hands crafted in a Delta shape, and a small seconds subdial outlined in white gold. When the second cover opens, it showcases a restored movement whose surface has also been entirely engraved. The mainplate and the bridges now display a Rose Carrée pattern. Engraving the original parts preserved the authenticity of the movement while elevating its beauty. 
The crown, set with a blue sapphire, is sheltered by an engraved square bow with blue grand feu enamelling which is attached to a unique square-link chain that has been designed according to the Rose Carrée motif. It has been entirely hand-crafted by Switzerland's last traditional chain maker, Laurent Jolliet. 
Collaboration
La Rose Carrée is the fruit of a passionate and common labour. Restorer, designer, case maker, beveller, engraver, dial maker, chain maker and master enameller all came together. As this project is profoundly related to the crafts of yore, they became known as "les mains d'or" or the golden hands, as the best craftsmen used to be called.  They gave their utmost best to this project inspired by Michel Parmigiani's vision. They all got behind his design principles rooted in the mathematics of beauty, as the Fibonacci-sequence is often called. They all adhere to the same work ethic, the preservation and elevation of the classics of watchmaking. They share the same love of things done in the best possible way. 
This network of artisans, some working inside Parmigiani Fleurier, some at the brand's restoration workshop, others independently working hand in hand with Michel Parmigiani for years, are proud to partake in the rebirth of a movement of extraordinary complexity and quality. They all adhere to the principle set by Guido Terreni: honour tradition and bring modernity to the excellence and broad skill set of Parmigiani Fleurier.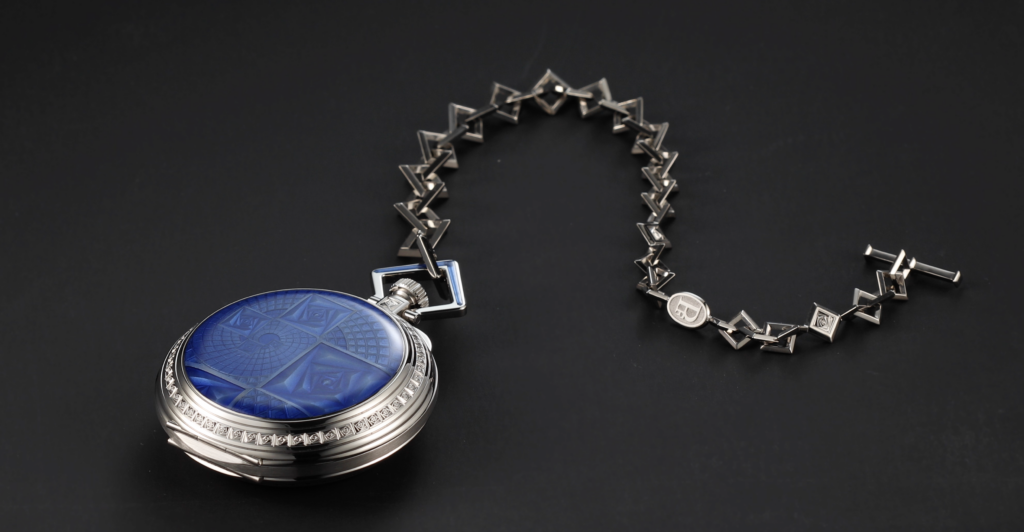 Conclusion
One hundred and twenty years apart, Louis-Elisée Piguet and Parmigiani Fleurier have taken on the task of making a truly magnificent timepiece. Their era, their skills, their tastes differ greatly but their mindset, techniques, and attention to the most minute detail are identical. La Rose Carrée establishes a living bond between them. One made of sound, beauty, and skill.
La Rose Carrée's Golden Hands
Guido Terreni (CEO), Michel Parmigiani (Founder) Anne-Laure Parmigiani (Project Leader), Anne-Marie Moser (Designer), Francis Rossignol (Restorer), Christie Girel (Restorer), Bernard Muller (Beveller), Laurent Jolliet (Chain Maker), Eddy Jaquet (Engraver), Vanessa Lecci (Enameller) Les Artisans Boîtier (Case Maker) et LM Cadrans, (Dial Maker).
Technical Specifications
CALIBRE
PF992 – ORIGINAL MOVEMENT MADE BY LOUIS-ELISÉE PIGUET CIRCA 1898-1904 WITH INDIVIDUAL NUMBER 5802, HAND-WOUND, HOURS, MINUTES, SMALL SECONDS, GRANDE SONNERIE, MINUTE REPEATER

 

Power reserve: 32 hours
Frequency: 18 000 Vph (2.5 Hz)

 

Jewels: 27
Barrels: 2
No. of components: 331 without pins
Diameter: 43 mm / 19'''
Decoration: bridges and mainplate are hand-beveled and hand-engraved with La Rose Carrée motif
CASE
Polished 18ct white gold PD210, double hunter pocket watch
Diameter: 64 mm
Thickness: 20 mm
Crown: Ø 10 mm, set with a natural blue sapphire
Bow: square-shaped with blue grand feu enamel and hand-engraved with La Rose Carrée

 

Glass: anti-reflective sapphire crystal, chevé-edged
Case covers: polished 18ct white gold PD210, chevé-edged, hand-engraved, grand feu blue enamel

 

Water resistance: none

 
DIAL
Solid onyx
Color: black
Finishing: polished
18ct white gold square indices and PF logo appliques, 18ct white gold small seconds subdial outline
HANDS
Hours and minutes: 18ct white gold, skeletonized delta-shaped
Small seconds: 18ct white gold, baton-shaped with square counterweight
CHAIN
Entirely handcrafted in 18ct white gold
Beveled & polished 32 square-shaped links, 2 engraved squares, and 1 engraved PF logo oval arranged in scalable sequence