Special contribution from Wei Koh, Founder of Revolution & The Rake
OK, let's just be honest here. For many years, up until August 30, 2021, Parmigiani Fleurier was a brand that, from a technical and quality perspective, I admired more than most others. And yet I felt absolutely no desire to own one of their watches. Zero. Zilch. Nada.
It was not lost on me the staggering in-house horological firepower that they brought to the table. In no short order, these included the first industrially produced 30-second tourbillon; an in-house 5Hz chronograph; an in-house 5Hz split seconds chronograph (yes, this is the base of Richard Mille's movement for the RM 65-01); a dual time zone movement with retrograde date; a perpetual calendar with retrograde date; an insane wandering hour orbital display watch with minute repeater; an amazing GPHG winning Hijri perpetual calendar; and yes, I remembered the Bugatti watch with its vertical movement and display.
From a quality perspective, the watches were irrefutably stellar with everything effectively made in-house by subsidiaries of Parmigiani Fleurier's parent company, the Sandoz Family Foundation. The cases were from Les Artisans Boîtiers (you would lose your mind if I told you who these guys make cases for), dials by Quadrance & Habillage (ditto on the mind losing thing), movements by Vaucher (yes, three for three in terms of losing your mind), hairsprings by Atokalpa, and even screws by Elwin. The point is that Parmigiani Fleurier watches are unassailable to criticism in terms of their quality. So, all of this should be enough to give some hyper priapic horological chubby. But somehow it didn't.
Parmigiani Fleurier Hijri Perpetual Calendar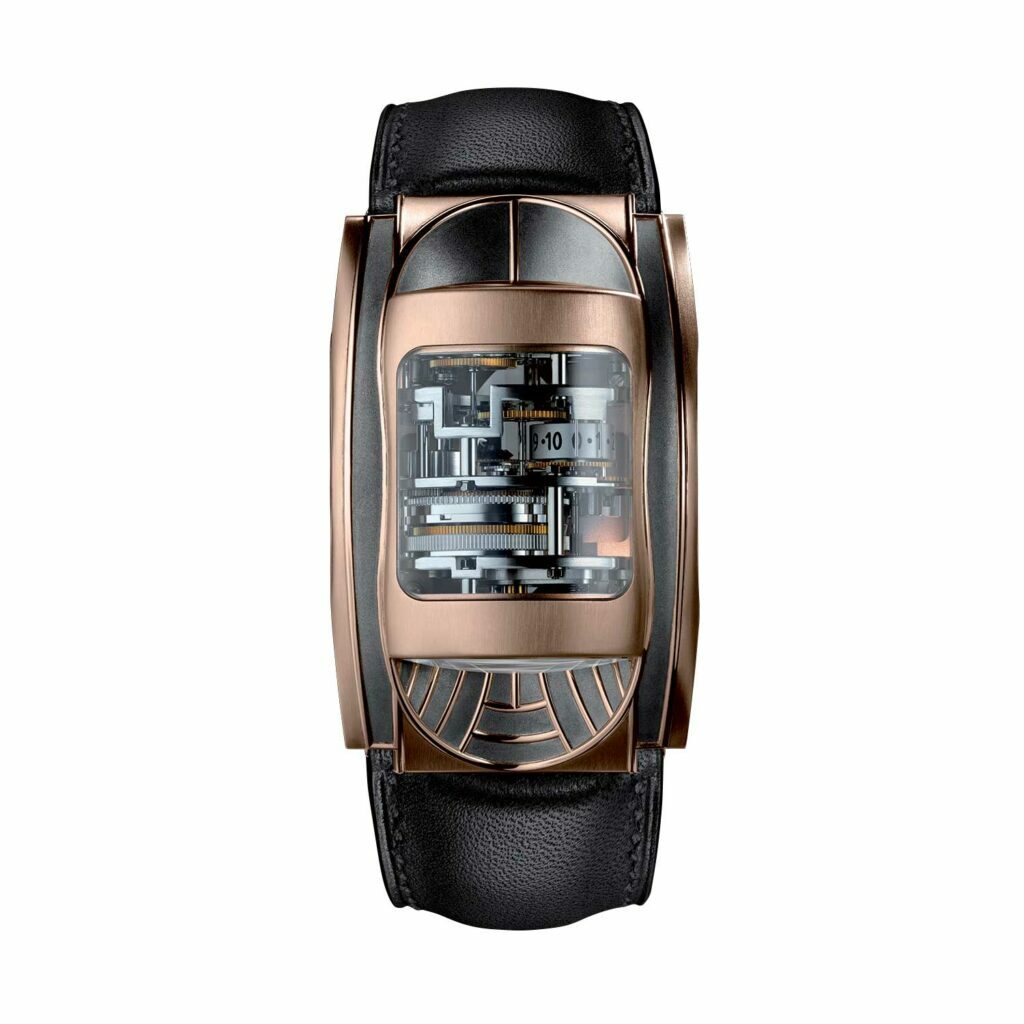 Parmigiani Fleurier Bugatti Type 370 in rose gold on ebony calf bracelet ref PFH340-1012700-HC3042
Try as I might, I just couldn't think of a Parmigiani Fleurier watch I connected with in that deep emotional, soulmate, Heathcliff and Catherine, Romeo and Juliet kind of way. Quite the opposite, every encounter with the watches was like that perfect date with what on paper was a seemingly amazing person, that went to MIT, played the cello, was a jiu-jitsu black belt and did an apprenticeship in Noma's kitchen, but in the end was just Meh.
But that all changed on the 30th of August in the year of our Lord two zero two one. Because stepping into the Parmigiani Fleurier suite in the Hotel Beau Rivage, I set eyes on a watch that was so mind-blowingly awesome that within two minutes, I had bought one.
You know that scene in the movies, where a guy gets set up on a date and he doesn't know what to expect. But then she walks into the room, and all of a sudden in his head he hears Whitesnake, and there's this spotlight on her because she's just so damn beautiful. Yes, that's pretty much what happened to me when I set eyes on the new Parmigiani Fleurier Tonda PF. It is, in essence, an integrated bracelet steel sports chic watch with a platinum bezel. But it is also so much more than that.
To me, it is an ingenious expression of ultra-subtle micro details used to create a watch that is apparently minimalistic yet crazily abundant in extraordinary nuance. It is simply unlike anything else out there on the market and its presence on the wrist immediately makes you double take, so tantalizing is its allure.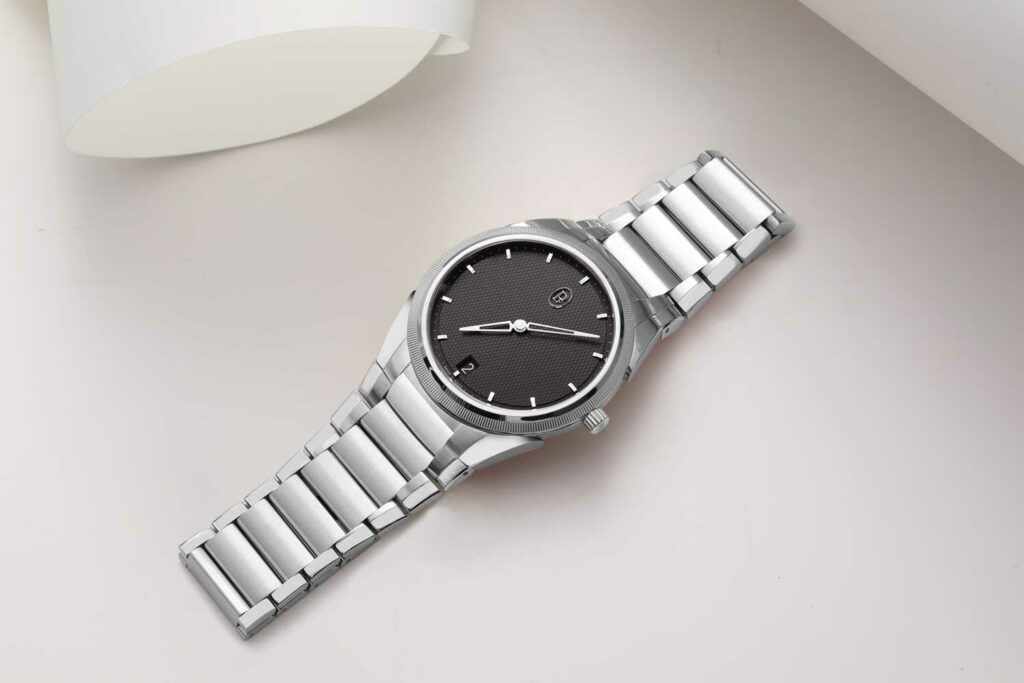 The Parmigiani Fleurier Tonda PF Micro Rotor Steel
OK, to be fair, I should say I had some expectations. Because the new CEO at Parmigiani is none other than my friend Guido Terreni, whom I also consider to be one of the best designers in modern watchmaking. Terreni was a key part of the team with Fabrizio Buonamassa that created Bvlgari's amazing Octo Finissimo. But what he did with the Tonda PF was an act of transformative brilliance that is seriously ass-kicking in its all-consuming dopeness. But before we talk about the watch, let's discuss what he went through in designing it.
A New Design Signature
Says Terreni, "When I took over Parmigiani Fleurier, the first thing I wanted to identify was what our design codes were. So, I went to the design team and asked them to tell me what they felt these codes meant to them. Each of them paused for a while, then they started to talk to me about the excellence of the movements or other technical details. And I said, 'Yes, I agree we have amazing movements but this is not design.' So, this started me on a search to identify our design DNA, the source code of our aesthetic vision. Interestingly, the first thing I zeroed in on was the PF, which is a seal that is engraved on our bridges and also appears on our rotors as a symbol of quality. I felt somehow that this symbol in its wonderfully discreet way could be the signature for a new family of watches that were at first restrained but at the same time very complex. For me, a watch needs to have this dynamic tension between apparent simplicity and actual complexity, between aggressivity and elegance; this creates the visual tension which becomes energy in design."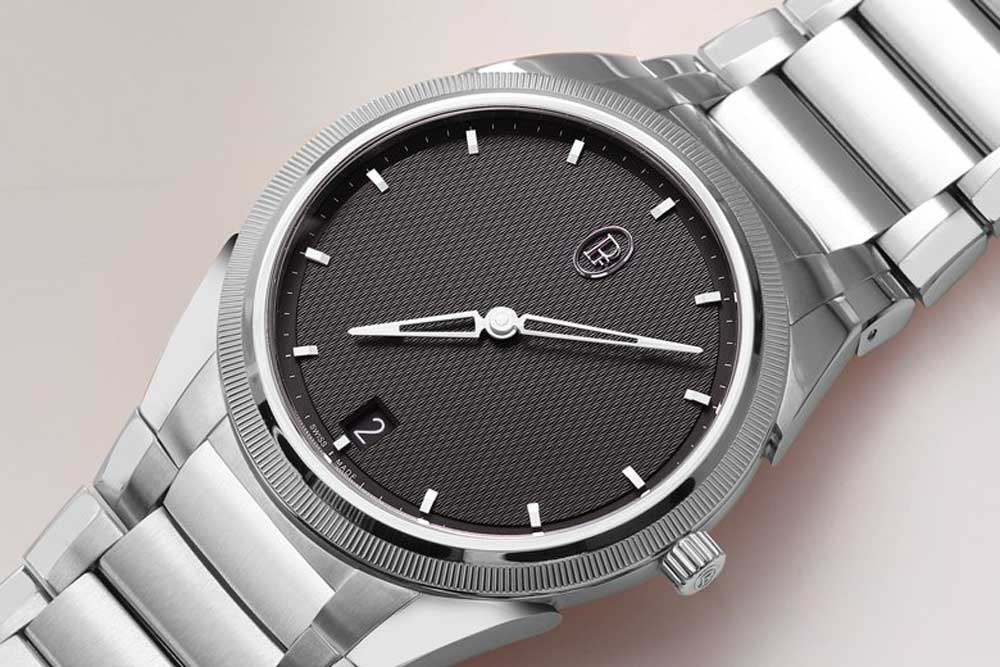 Identifying the booming market for integrated bracelet sports chic watches, Terreni looked to his Tonda collection. He says, "Yes, of course, everyone is aware that this category of watches is the most popular today and that the two entrenched players are dominating the market. To me, this opened up a real opportunity to create a watch that was a true alternative for those that want something more daring in design, more discreet, yet at the same time immediately identifies them as people that are far more individualistic than those that follow the crowd. With that in mind, a design started to coalesce in my mind." Terreni is, of course, right. The explosive popularity and related unavailability of the Royal Oak reference 15202 and the Nautilus refence 5711 have opened the world to all other integrated bracelet sports chic watches. And there are some damn fine ones including Chopard's Alpine Eagle, Moser's Streamliner and Czapek's Antarctique, especially in rattrapante execution. But the PF is to me the most iconoclastic of these — intentionally divisive and, as such, most wonderfully different.
I actually think that Parmigiani Fleurier could lose the "Tonda" reference and just call the resulting collection of watches the "PF," so vastly different are they to their predecessors. Want an example? Look at where the flared lugs meet the case. At the junction, the lugs are polished in the internal surface where it meets the caseband. Terreni laughs, "From a cost perspective, it makes no sense to do this because it is incredibly expensive. But for me these flared lugs are so stunning and the only way to truly highlight the separation between them and the case is to have this tiny internal surface mirror polished."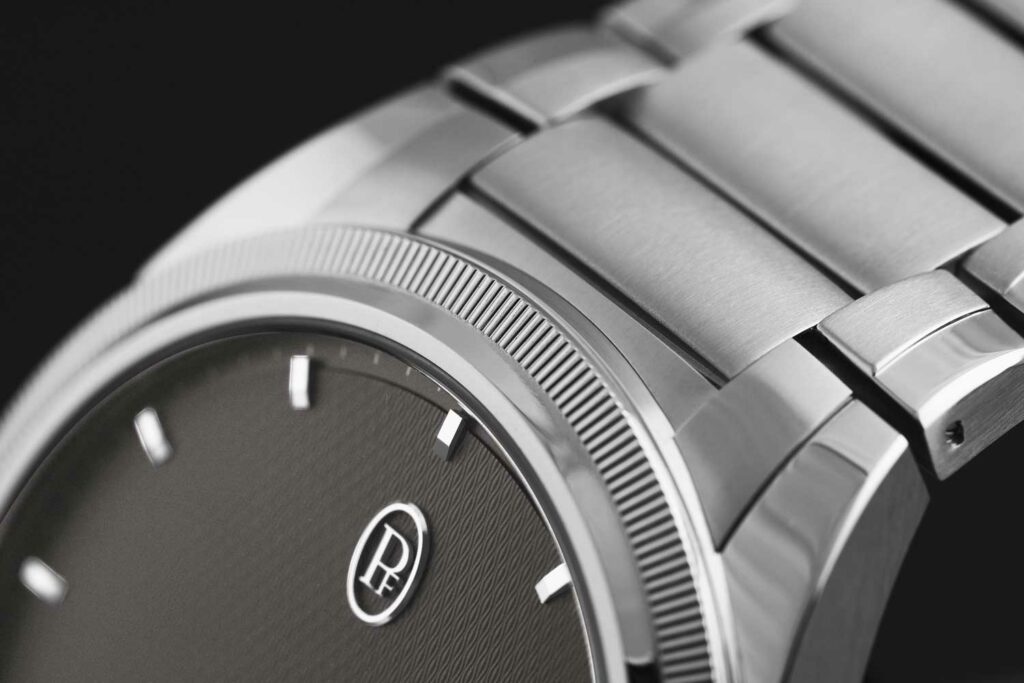 The 40mm case of the Parmigiani Fleurier Tonda PF Micro Rotor Steel is forged in steel and has a platinum knurled bezel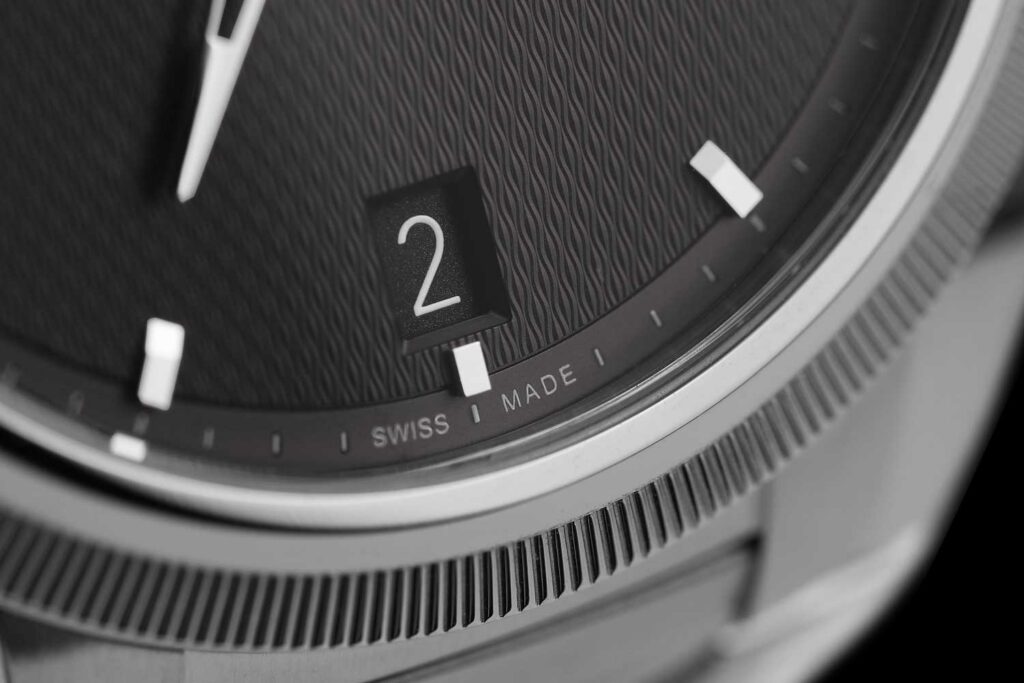 A closer look at the sunken minute track of the Parmigiani Fleurier Tonda PF Micro Rotor Steel's dial
And that is what is so sublime about the Tonda PF, in particular the time and date version. It is simply a visual symphony of minute but extraordinarily refined details. Look at the platinum bezel. The finesse with which the tiny fluting has been achieved is simply extraordinary. Says Terreni, "Even though the watch is steel, I insisted on a knurled platinum bezel because when the light hits it, it creates this wonderful luster that is different than that of steel. It is all about creating something that is apparently monochrome but has these subtle contrasts. Indeed, the bezel is both fluted but also mirror polished, so there are two different textures to this element."
Details Made Perfect
When it comes to a masterpiece of minute detail, the watch's dial is absolutely that and more. The grain d'orge guilloché pattern is applied to the brass dial using a CNC (computer numerical control) machining process. But the challenge put forth by Terreni was to create this pattern at the smallest scale possible. He laughs when he recalls, "In fact, the person in charge of the dial project was so proud that he managed to get the guilloché pattern so small, but in the end we had to use one size larger. The problem was that once you put the crystal on top of the dial with the smallest pattern, you lose all the detail. But this is also why we use a sapphire crystal with a double anti-reflective coating, so that you can actually see how amazing your dial is."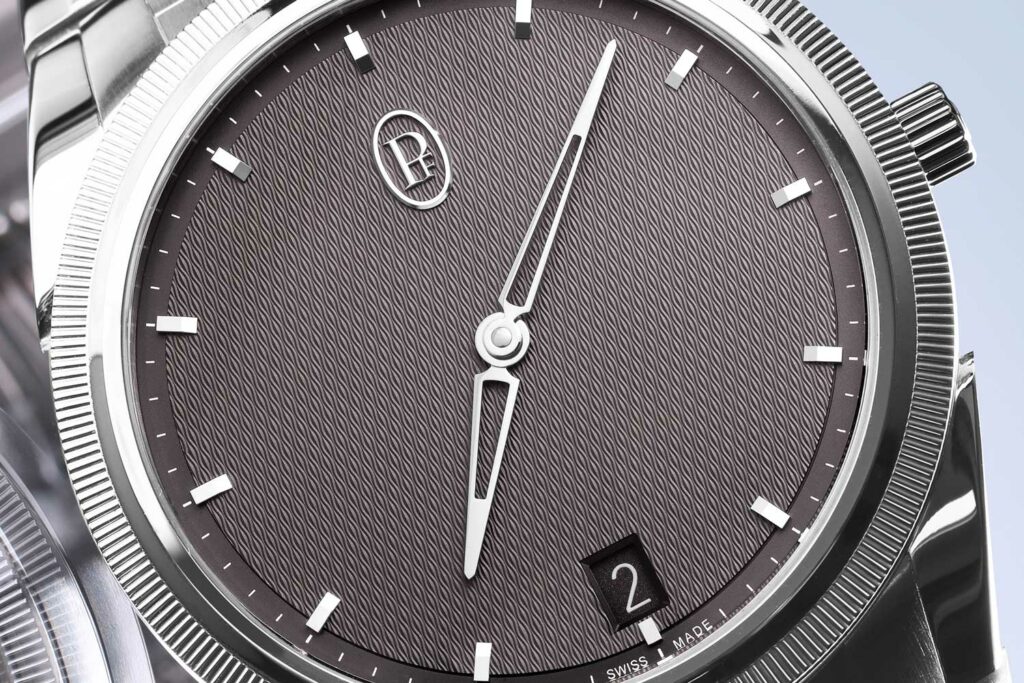 Another lovely detail is the sunken minute track. Say Terreni, "It's funny, I was looking at the watch that won the GPHG Innovation Prize last year, the Hijri Perpetual Calendar, and, for whatever reason, I thought that the minute track was recessed around the dial and really like this detail. But then I realized that this was actually not the reality. I kept thinking about this detail, and when it came time to create the dial for the PF, I wanted to include this as a key design element." The color of the dial of the Tonda PF is also a masterwork of subtlety. Says Terreni, "What looks like gray is actually a soft modulation of different gray and brown tones to create an evocative and elegant hue that is unlike anything else. We worked on many different versions of this dial until we arrived at the color we wanted." On this dial with its tiny pattern, its sunken minute track, its soft alluring color, are applied gold indexes and a gold PF logo. Says Terreni, "The oval frame and the PF are two separate parts but it was important that we didn't cut any corners and made every element of the watch as refined as possible. To this we add the distinct gold Tonda hands."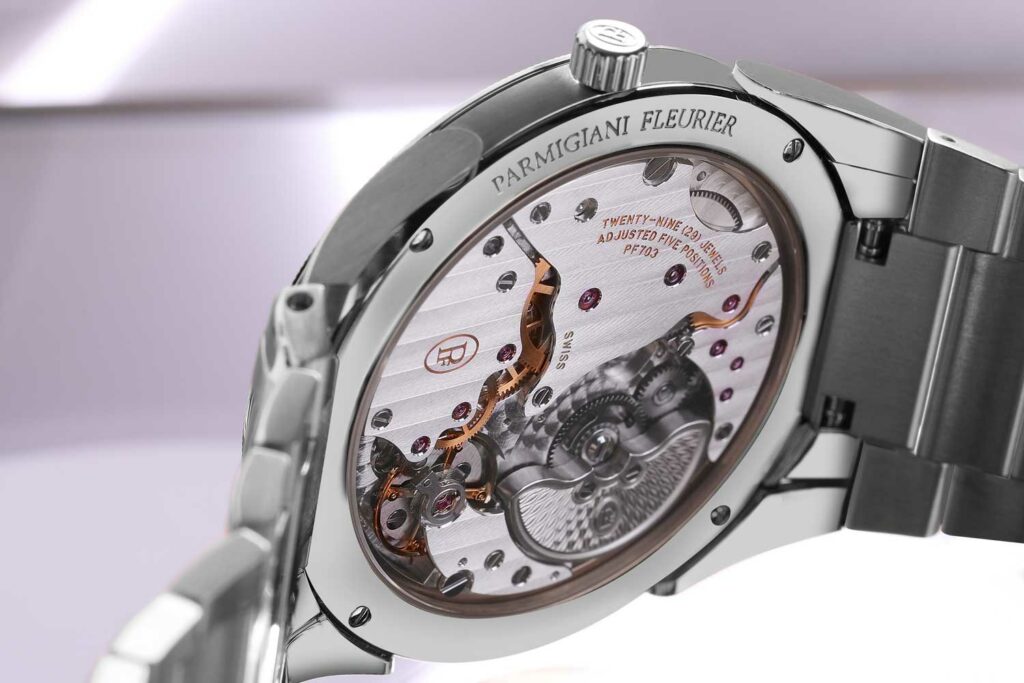 The Parmigiani Fleurier Tonda PF Micro Rotor Steel is powered by the calibre PF703 , which at 3mm thin boasts a full platinum micro-rotor and 48 hours of power reserve
But it is really when you slip the perfectly sized 40mm watch onto your wrist that it comes alive. To me, the best part of the time and date Tonda PF Micro-Rotor is the extraordinary dynamic tension between its angular features, its apparent simplicity belied by a cavalcade of mind-blowingly rich details contrasted by the slimness of its profile. Terreni took advantage of the 3mm-thick micro-rotor movement to create a case that from the front looks strikingly muscular and powerful but from the side is a mere 7.8mm in thickness, which makes it slightly thinner than the original caliber 2121 equipped AP Royal Oak reference 5402 from 1972 that I've always thought had the perfect proportions on the wrist. Of course, considering his previous role at Bvlgari, many will ask if he is creating something in line with the brand's Octo Finissimo and if he intends to explore this dimension of ultra-thin watches. He emphatically replies, "No, that is not the objective for me. My goal is to create the most beautiful watches, so of course the dynamic contrast between something with so much presence but then the elegance on the wrist at 7.8mm in thickness is crucial. For me, it is about creating the perfect proportions for each reference."
And it is perfection, indeed, that he has created because it took me honestly two minutes before I ordered a PF — that's how much I love it.